The surfaces of aluminum components can be refined using a variety of processes,
As the term already states, dimensional tolerance, i.e. low tolerances for thickness and flatness, is paramount with aluminum precision plates. These properties, combined with a visually appealing surface and good internal properties, have opened a wide range of applications for aluminum precision plates. However, this attractive appearance is all too fleeting.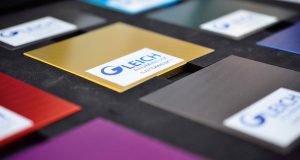 Do you need a drawing part with a surface treatment? Don't hesitate to request a free offer now!
Without additional surface protection, which is usually provided through various anodizing process, high-quality surfaces cannot be protected from mechanical, thermal and chemical stresses in the long run.
Increasingly, the color design and thus the implementation of optical requirements are playing an important role.
Anodizing with optical requirements of cast aluminum plates can be a challenge, which is why GLEICH Aluminum has developed the G.AL C250 ELOX PLUS precision plate which sets high standards in terms of optical properties after anodizing and can be used in applications that were previously mostly limited to rolled products.
Customer Experience
With G.AL C250 ELOX PLUS, our products are setting new visual standards. Through intensive collaboration with GLEICH Aluminum, we were able to test this product and integrate it into our planning as early as in the development stage of G.AL C250 ELOX PLUS.
Hard anodizing up to 70.9 x 110.2 in
Anodizing up to 78.7 x 236.2 in
Chemical nickel plating up to 800 × 1.400 mm
Chromizing up to 78.7 x 236.2 in
Polishing
Sand- and glass bead blasting
Powder and wet paint coatings
Engravings (mechanical, laser- and photo engraving)
Did we raise your interest?
For more information or specific offers please directly contact our aluminum experts.
We look forward to hearing from you.