Aluminum under high pressure
Often the use of CNC machining for contours is a time-consuming and expensive process. Waterjet cutting can create very precise contours with considerably less effort.
The foundation of any high-pressure cutting workplace is a high pressure pump which generates a water pressure above 4000 bar. Water abrasive blasting is most frequently used to cut aluminum plates; here, an abrasive component is added to the water, namely grinding sand.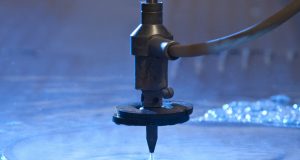 You need a drawing part with waterjet cutting? Get a free quote now!
Cutting of 3D-shaped contours without the chamfers (tilting of the rotary axes in the range of ± 45 °)
Max. dimensions of the sawn parts: 2000 x 4000mm
Max. thickness of the sawed parts: 200mm
Did we raise your interest?
For more information or specific offers please directly contact our aluminum experts.
We look forward to hearing from you.